As a long-standing fan of magazines, and the men's magazine market in particular, it saddens me to see almost-monthly articles proclaiming their imminent demise. While it's true that in recent years some titles, such as Maxim and Arena, suffered a swift and merciless end, others have performed comparatively well: between 2002 and 2009 Esquire UK's circulation held steady at around 60,000 copies per month, and GQ UK's actually increased by 3.2%. I do like both of these titles – they have some excellent guest and regular columnists – but they could do with improving their style sections. Enough with the boys-in-half-mast-trousers-and-Hitler-haircuts photo shoots! I want to see clothes that I could actually wear to work without being laughed at.
But anyway, back to the point… here in Japan a lot of the biggest-selling men's magazines are all about fashion and style. And not just fashion and style in general: they cater to niche markets that simply couldn't sustain a magazine of their own in other countries. If you're interested in classic American work-wear, for example, you have Free & Easy and Lightning; if you want to look like an off-duty Hollywood celeb you can read Safari; and if you're more interested in what those crazy Shibuya kids are wearing you can pick up Popeye. Unlike a lot of British men's magazines, Japanese titles devote acres of page space to street shots (ie, candid photographs of normal people whose vibes happen to resonate with a particular style).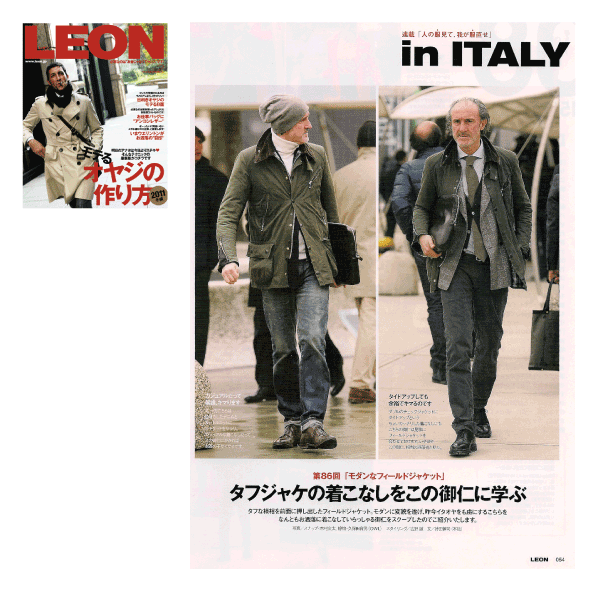 Of all Japanese men's fashion magazines, Leon and Men's Ex are my favourites. Leon takes its inspiration from the choiwaru oyaji (which roughly translates as "bad-yet-cool old guys") of Milan and Florence. If you can't get enough of Tommy Ton's photos from Pitti Uomo, this is the magazine for you. Articles not only detail the latest trends from Italy, such as wearing Barbours over grey worsted wool suits, they also delve into the minutiae of sprezzatura. If you ever wanted to know how to fasten your button-down shirt collars to effect just the right degree of nonchalance, look no further.
Leon also produces a biannual special called Snap! which consists entirely of street shots. Photos are categorised by garment (ie, navy suits, casual outerwear, grey jackets), and provide a handy reference to those in need of sartorial inspiration.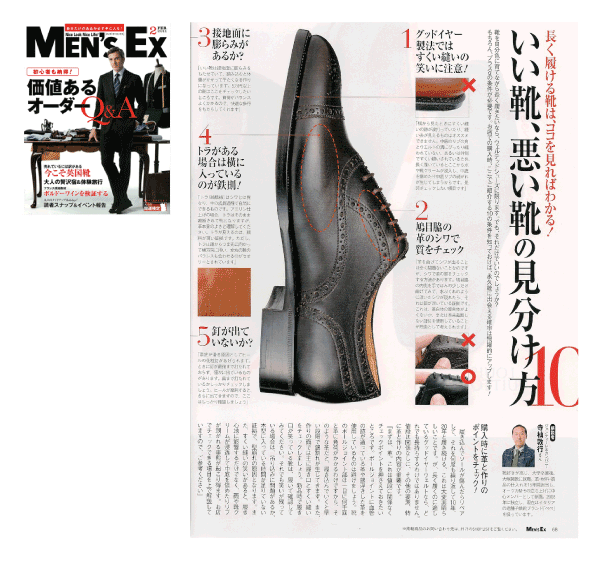 Like Leon, Men's Ex is heavily influenced by the Italian menswear market. However, while Leon pays a lot of attention to casual, weekend clothing, Men's Ex concentrates on the business end: suits, shoes, blazers and ties. Shoes, in particular, are often explained in such depth that it can be frightening to think about the amount of man-hours the staff writers have put in.
Men's Ex also features more from the British and American tailoring scene than Leon – Jeremy Hackett is a columnist, for example – and is generally more conservative in outlook. In terms of readership, Leon is aimed at forty-somethings who are confident enough and high enough up the corporate food chain to wear what they like, while Men's Ex is for twenty- and thirty-something career men who are looking to get ahead. It helps to be well dressed, but being too flashy can be risky.
If there's one thing that both these titles lack, it's high-brow journalism. If you're expecting serious, well-written articles on politics and current affairs you should stick with Esquire and GQ. These babies are unashamedly style-centred, and you'll often have a hard time distinguishing between editorial and advertorial content. But for the clotheshorses among you, they are well worth buying.