Ring Jacket. It's an odd name that might be familiar to some readers: the blog of Hong Kong-based shop The Armoury regularly features their gear, usually with the sumptuous, mahogany-panelled surroundings of its showroom in the background. Their suits looked pretty effing sweet to me so, after spending an unholy amount of time in a Shinjuku department store, I one day found myself with a brand new grey-on-blue pinstriped Ring Jacket suit.
Fabric
Ring Jacket suits look best in fabrics that are ever-so-slightly out of the ordinary. The blue of the fabric used in my suit is a peculiar half-breed of navy and light grey that looks conservative under the florescent light of an office, yet quite vibrant in natural sunlight. This makes it ideal for those spring and summer months when charcoal is simply too severe.
As Ring Jacket is a Japanese company catering for a largely Japanese market, much of the wool fabrics they use are summer weight, including the one for this suit. It would be suitable for temperatures anywhere up to the low twenties (degrees C) before you really begin to feel too hot under the collar.
Fit and Construction
If I had to describe the fit of this suit in one word, it would be Neapolitan. The shoulders are soft, with just the slightest hint of padding; the lapels are slightly wider than normal; the waist is slightly nipped, but far from constricting; the rise on the trousers is low, but not noticeably so; and the trouser legs are slim and flattering.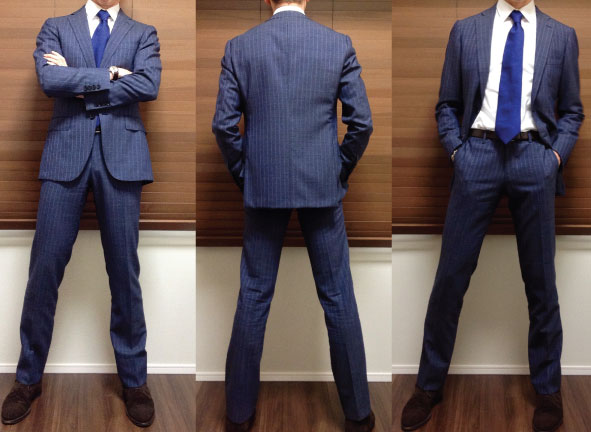 For those of you who are used to a more structured suit jacket, putting on a Ring Jacket for the first time can feel very un-suitlike. It's so comfortable that, until you look in the mirror, you may have trouble believing that you still look smart enough for work. For an off-the-rack suit, this is quite an achievement.
This suit is only one-quarter lined, which is fairly common in Japan. It's ideal for Mediterranean or semitropical climates – which probably explains Ring Jacket's popularity in Hong Kong – and can be worn during the summer months in the more temperate climates of northern Europe and the northern United States.
As for sizing, I would say that this suit fits slightly larger than, say, a Paul Smith suit of comparable size. I'm 5' 10½" (179cm) tall and weigh 154lbs (70kg), and this suit is a size 46.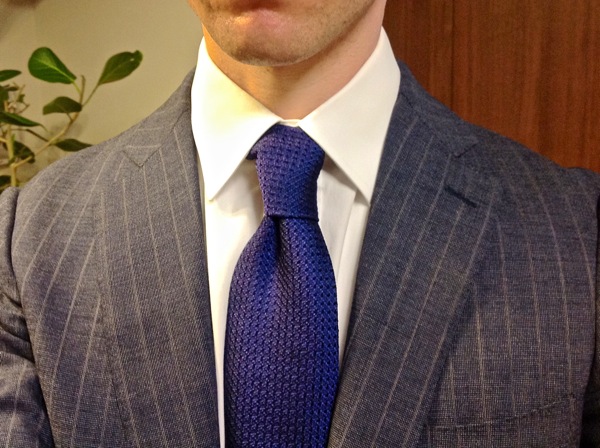 As usual with Japanese-made jackets, I had to have the sleeves lengthened by a couple of centimetres to accommodate my lanky arms.
The trouser legs taper towards the bottom, so you might want to have them cut shorter than you normally would to avoid the fabric bunching up at your ankles. I could have done with taking another centimetre or two off mine.
Conclusion
For an off-the-rack suit, this one is not bad at all. Ring Jacket have successfully paired Italian style and comfort with Japanese quality and attention to detail. You will find a multitude of suits within its price range (around ¥100,000), but you are very unlikely to find one that fits quite so well, looks as good or is as well made.