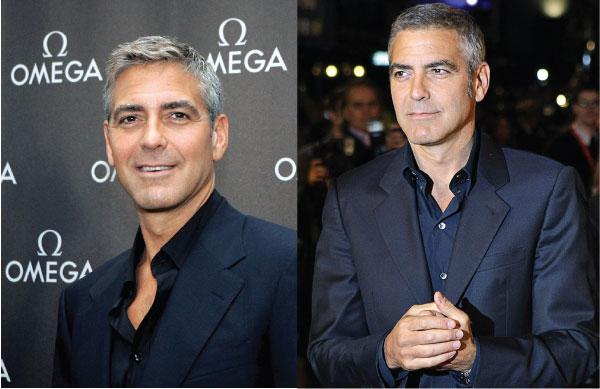 If there's one thing that makes men's style purists recoil in horror it's the combination of dark shirts with suits. It's a look that's all too frequently seen on TV dramas and in the most fashionable bars and clubs of major cities, but is rarely considered acceptable in traditional office environments. This might be because dark shirts are often part of a uniform, especially in the retail, catering and security sectors, and nobody wants to be confused for a waiter when out on a date. But it might also have something to do with dark-coloured shirts looking older faster. The fading on a navy shirt will be much more apparent than on a sky blue one, for example.
Despite the negative "Sopranos extra" connotations, some people do manage to pull off dark shirts with aplomb. One of these is George Clooney (pictured above). Of course, Mr Clooney could probably wear a bin bag covered in freshly-squeezed whitehead pus and still look better than most of us, but nevertheless we can learn quite a few things from the way he (or, more likely, his stylist) puts his gear together.
Pair dark shirts with even darker jackets and trousers
If you plan on wearing a dark shirt to work then it's probably best to pair it with an even darker jacket and trousers. You might want to pair a grey shirt with a charcoal-grey jacket, for example. Make sure your outfit is as well-tailored as possible, and that you avoid being too precise. Undo one or two shirt buttons, for example, so you won't be confused for a maître d'.
Forget the tie
Dark shirts and ties are not the best of friends. A dark coloured tie is likely to blend into your shirt; a light coloured one will add too much contrast. Either way, you'll end up looking like a bingo hall MC.
Add some contrast for casual occasions
If you plan on wearing a dark shirt casually then contrast makes for a more interesting look. Think light grey trousers with a dark grey shirt, or khaki chinos with a navy shirt. A fabric or woven leather belt will help to round things off nicely.
Don't wear dark shirts on formal occasions
Never wear dark shirts for formal occasions, and especially not for weddings and funerals. The only people exempt from this rule are the ones providing the entertainment (DJs, etc).