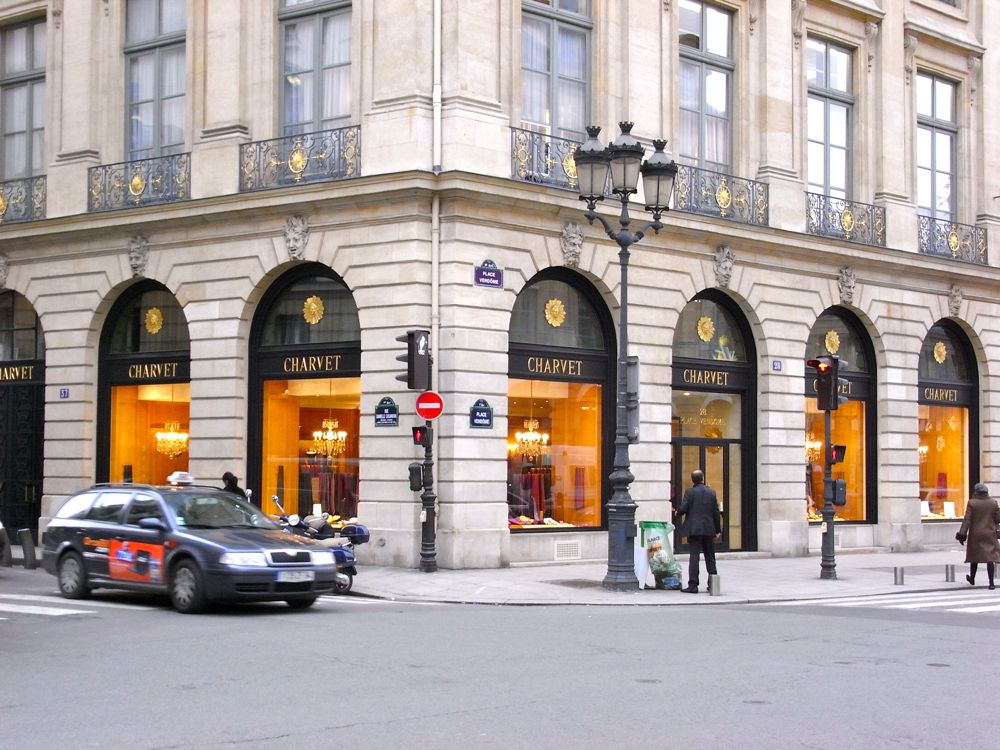 In the world of classic men's style heritage counts, and few companies can boast a more illustrious heritage than Parisian shirtmakers Charvet. When its doors opened on the rue de Richelieu in the 1830s it was the world's first shirt shop. It has been, and continues to be, a favourite supplier of clothing to royalty, presidents and prime ministers. When Edward VII wanted a special kind of stand-up turn-down collar made, he came to Charvet. When his grandson, the Duke of Windsor, wanted a special kind of bow tie made to suit his tastes, he did the same.
While it's possible to buy Charvet shirts and neckties from a number of international luxury retailers, the only shop directly operated by the company is located at 28 Place Vendôme. Its elegant Baroque facade hides eight floors of menswear heaven. The large, immaculately cleaned ground floor windows are festooned with a dizzying array of neckties. The opulence on display makes entering the shop itself an intimidating prospect – this is not the kind of place that welcomes unkempt tourists with open arms – but if you're in Paris and have more than a passing interest in men's style, you should do so.
The first thing that strikes you as you enter Charvet is the sheer number of ties. They are everywhere. They hang by their dozens from the spokes of specially designed brass stands; they line the walls; they fill every available drawer and cupboard; and they cover every tabletop in sight. The special finishing that Charvet silk undergoes makes each tie shimmer and reveal hidden colours as you walk among them. In fact, it's rather like being inside a jewel-lined cavern.
When it comes to choosing ties in Charvet, you might find it hard to know where to begin (I know I did). The staff, while possessing a reserved air designed to intimidate the buy-nothing "'Ere, Tracy, look at the price of this!" type of scally, are well versed in the art of colour and pattern. As long as you are serious about buying something they are happy to make recommendations based on your wardrobe, your current selection of ties, and even your complexion. If you're not a Francophone, don't worry: they speak English, too.
Unfortunately I didn't have time to venture to the hallowed third floor, which is the home of Charvet's bespoke shirtmaking operations (legend has it they have four hundred shades of white alone), nor did I manage to sneak a peek at the custom tailoring on offer on the gentlemen's club-like sixth floor. But it wasn't all bad news: as I'm not an easy person to buy surprise birthday presents for, my lovely wife offered to buy a couple of ties that I deemed "effing marvellous". But as my birthday wasn't until March they had to remain under (very nice) wraps for for another six weeks.