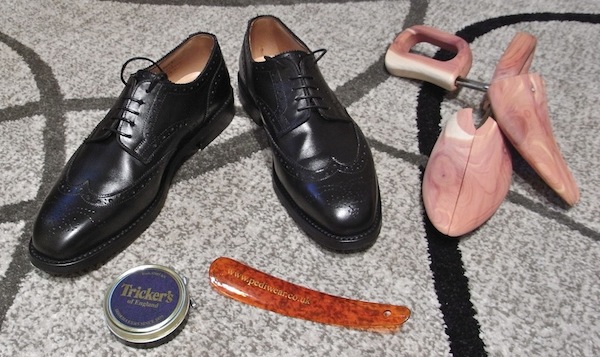 My first pair of Tricker's arrived last week. I bought them from a Halifax-based outfit called Pediwear, and was very impressed with their service. Shipping to Japan was fast (about a week), free and reliable; and the total cost – import duties included – was much less than buying at full retail from a Japanese retailer. Pediwear threw in (surprisingly good) Dasco shoe trees, a tin of Tricker's wax polish and a shoe horn. And they also provide a 5% discount on subsequent Tricker's purchases, which is very handy indeed – in fact I'm already eyeing up my next pair.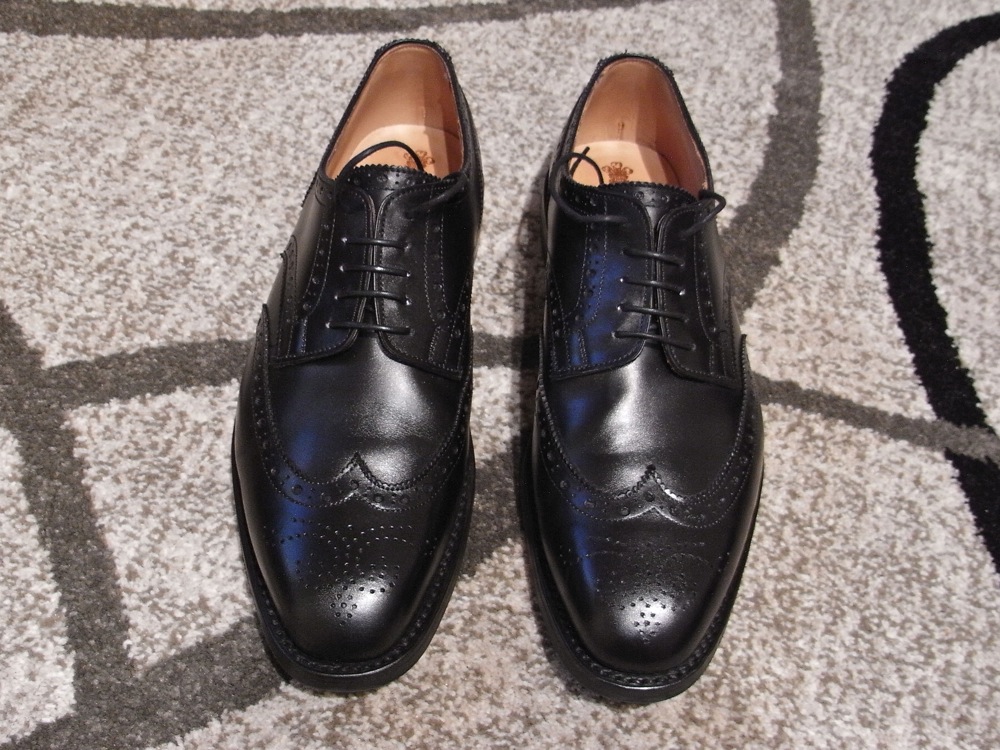 Anyway, back to the shoes… Rather than go for the traditional, large-brogued brown country shoe for which Tricker's are famous I opted for the Newbury, which is a slightly more reserved black calf-leather brogue derby from the 1829 line.
As you can see, the Newburys are fairly chunky but not particularly obtrusive. (They're especially smashing with a good flannel or worsted wool suit.) They come in Tricker's standard "5" fitting, which is, I believe, equal to a UK "F".
As with any person my feet are quite unique. The midsection of my foot is narrow but I have very long toes that like to spread out. I found the Newbury's toe box to be about right in terms of width – anything narrower and my big toe would have been rubbing uncomfortably against the seams – but the arch and opening are most definitely roomy. In their present not-yet-broken-in state I have to tie the laces very tightly in order to keep my feet from slipping about. From experience I've found that this becomes less of an issue as the leather wears in: older, supple leather easily moves with the joints of my toes and ankles; brand new, tougher leather tends to fight against them and push my foot about.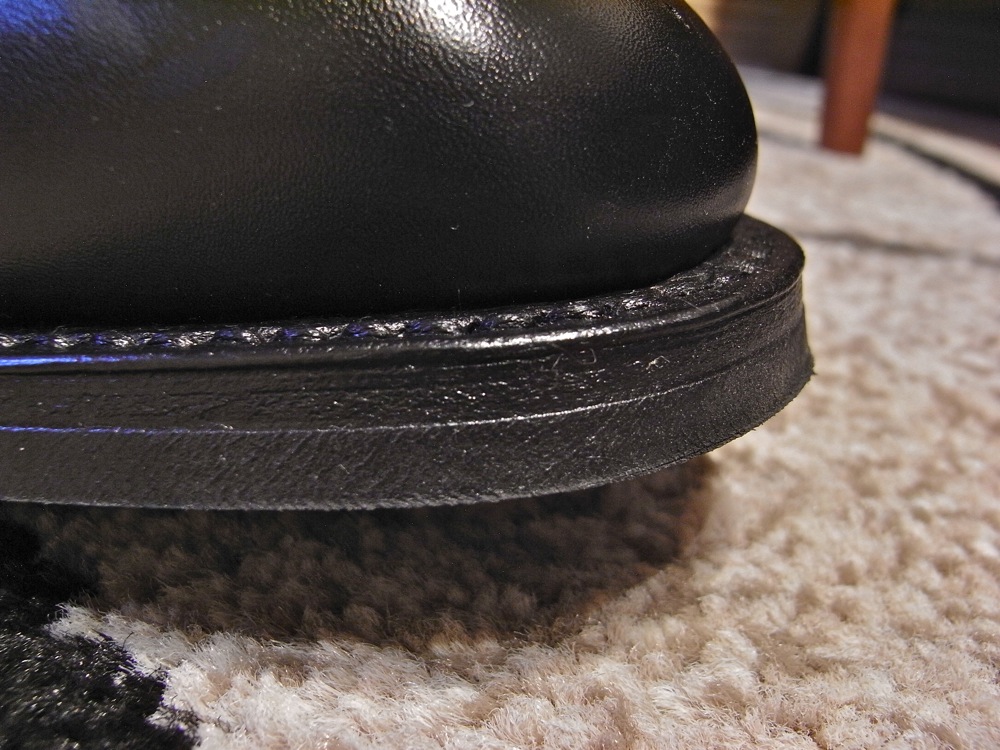 Saying that, the Newburys were a lot more comfortable out of the box than many of my old shoes, despite the relative toughness of the leather. There's a bit of chafing around the ankles but it's not particularly painful. I've heard it said that if a shoe is a blister-former from the outset then it's not the right size for you. I disagree: I have a pair of brown oxfords that actually drew blood on the first few wears but are now as comfortable as slippers. Sometimes you get lucky and don't have to break shoes in; sometimes you've just got to put up with some discomfort for a few days.
I decided to opt for Dainite rather than leather soles. This was purely for practical reasons, as I'll soon be walking to the office and back instead of taking the train, and Tokyo is a lot wetter than most European cities (annually, it receives more than twice as much rain as London). Dainite-soled shoes don't have the same degree of flexibility or breathability as leather soled ones, but there is always the option of having leather soles fitted later on.
So, all in all, I'm happy with the Newburys. But just in case things change I'll post an update (with photos) in a few months to explain how well (or badly) they've broken in.
Model: Tricker's Newbury
Colour: Black
Size: UK 9 (width "5")
Sole: Dainite rubber on a Goodyear welt
Length (from heel to toe of outer sole): 31.5 cm
Width (at widest point): 11.5 cm