If you're a young chap in your twenties you might very well be slowly working your way up the corporate ladder. If so, chances are you're in the process of acquiring a decent, respectable work wardrobe. You've probably already got at least one navy and a couple of grey suits, and if you've followed the advice given by my fellow Men's Flair columnists you'll have invested in a few pairs of shoes (black and brown) as well. But have you delved into the world of the navy blazer? If you haven't, consider doing so this coming spring: there are a few items of clothing that are more versatile.
To be quite honest with you I was rather apprehensive about buying a navy blazer. They conjured up not-too-pleasant childhood images of silver-haired alcoholic windbags who propped up the members' bar in my local golf club. In addition, the traditional brass buttons, which are a key feature on many traditional navy blazers, drew far too much attention to themselves for my liking. So, when I did eventually take the plunge I opted for an entirely unstructured cotton affair with horn buttons. It gets me smartly through the stifling humidity of Tokyo summers without suffering the inconvenience of death from heat exhaustion.
Unstructured navy jacket with gingham shirt
My most-worn jacket during late spring and early summer is this unstructured navy jacket. It's just the thing for when the days are hot but you need to look smarter than your average salaryman.
Remember that gingham shirts need to be toned down with simple, dark-coloured ties. This one is actually a black and medium grey knit, which makes it look like very dark grey from a distance.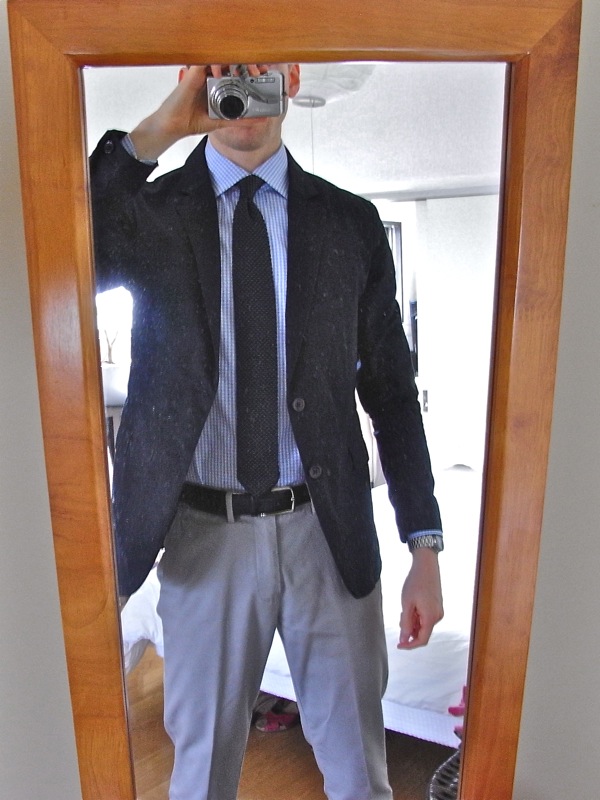 Need some decent chinos? Get yourself a few pairs of J.Crew's Bowery pants.
Grey trousers make natural partners for navy blazers. Their sobriety allows you to go mental with other parts of your outfit, or opt for a simple white-shirt-navy-tie combination that is truly timeless. A more contemporary look that I quite like is to pair a navy blazer with cargo pants or khakis. The key to pulling this one off is to find a pair that are as smart as any other pair of trousers in your wardrobe. The undisputed king of the smart-cargos-navy-blazer combo has to be Brunello Cucinelli. His wares effortlessly manage to blur the line between smart and casual clothing.
The Italian look: navy jackets and knitted silk ties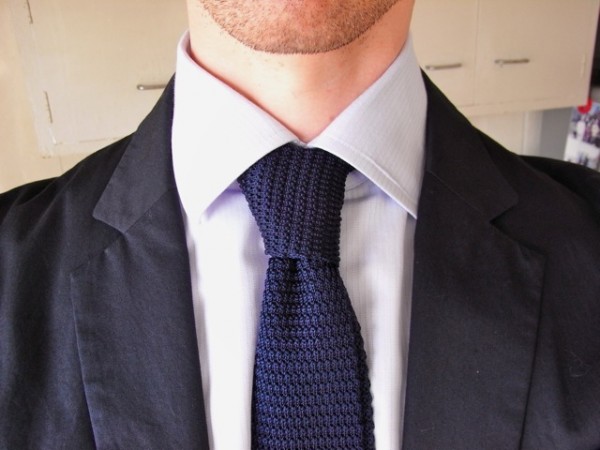 Try pairing them with a baby blue shirt, Prince of Wales check trousers and dark brown Oxford shoes: